Unleash your creative potential with these 4 tiling tips
Whether you're building, upgrading or selling, the look and feel of your bathroom can be very important. It is also a place where you can be your most creative and with so many bathroom tile options, it has never been easier to make your bathroom stylish as well as functional.
From ultra-modern to luxe designs, to translate your muse into a practical design requires planning. In fact, the bathroom tiles you pick are going to set the foundation of the room meaning planning is not just important, it's the key.
Let us give you our top 4 tips to help you find some great bathroom tiles that are both functional and in-line with the look you love.
What's your style?
You may already have a style in mind however, for longevity purposes, simple or minimalistic designs are usually the best.
Different types of marble, like the Carrara Marble, is timeless and we are seeing it being used more broadly in recent years. Another popular option is to incorporate terrazzo into your design.
Like marble, terrazzo has been used in homes for centuries. With its speckled look, it can add a very interesting element to your design. We're especially in love with the Venetian Marble Collection. It's inspired by the ancient Venetian terrazzo flooring and is combined with the technical performance of the latest generation of porcelain stoneware.
Whilst it is a good idea to keep the style of your home flowing from the living areas into the bathroom, it's not always necessary. As a bathroom is a separate area you might consider a bathroom tile with a different colour or pattern on the floor, or a different size or shape that gives your bathroom a truly unique feel.
Try pairing a geometric shaped bathroom tile with a soft, neutral colour like white or grey. It can also be fun to play with different textures like some of the tiles in our Cemento range.
Why bathroom tile size and shape matters
Depending on where you go, you will find a range of different shaped and sized tiles. At Groove Tiles & Stone, we particularly pride ourselves on our selection of tiles; ranging in many different sizes shapes and starting at different price points.
This makes it a little more complicated than picking a square or rectangle tile.
Size
Small format floor tiles work well in smaller bathroom spaces and showers as it is easier for the tiler to obtain the falls to the floor waste. Using the same size of tile on the floor and walls allows you to match the grout lines and focal points if you prefer overall a symmetrical look. Otherwise, choose a different size on the walls and consider offsetting the tile or changing the direction to show purpose in the design. For a seamless bathroom tile finish, extra-large format tiles like the Marmoker Arabesque 1180×2580 slabs can truly take your breath away.
Shape
If you are choosing a long tile like our Retro Negre 70×600,this shapecan look amazing if arranged in an unusual way. However, patterns like a herringbone are very complex to lay so you need to consult an expert to make sure it is feasible to lay the pattern before you order your tiles. By doing this, you could save yourself a lot of time in the long run.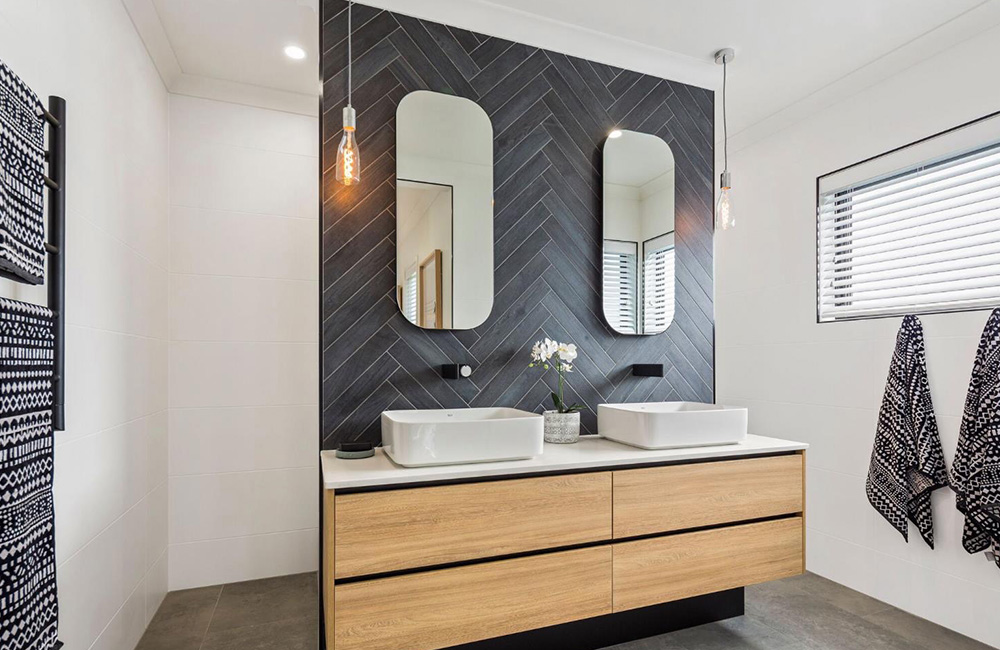 3 is the magic number
Upon deciding the style, size and shape of your tile you will need to begin to narrow down your options. As a rule, it is best to choose no more than 3 different tiles for your bathroom.
This is because trying to mix too many tiles can make the space look busy. Try to choose subtle variations between your floor and wall tile to make the space look larger.
To begin, start your selection with your main floor tile
Then look at your selection of wall tiles and compare how they will either complement or contrast against your floor tile.
Finally, choose a feature tile
For example, three tiles that we would pick for a bathroom space are Materia Opal Natural 600×600 for the floor, Materia Shimmer Natural 300×600 for the wall and Materia Garage Opal 300×600for the feature.
If you would like to incorporate a feature tile, try to use them on a decent scale like an entire wall rather than a small, confined space.
Alternatively, try running a large format floor tile up one wall to create the illusion of a larger room.
Factor in additional laying costs
Possibly the most likely factor for home-renovators to forget when picking their bathroom tiles is the additional laying costs associated with the different types of products.
For example, a rectified tile with sawn edges requires more precise laying which takes longer and therefore, will cost more.
Large formats may need two tilers because of their weight. They can also be particularly tricky to lay as they need completely flat walls and floors (this can be difficult if you are renovating an old house).
Natural stone needs to be cut with a wet saw and hence takes more time to complete the installation rather than a score and snap method used on porcelain tiles with a standard tile cutter.
Natural stone also needs to be laid with respect to the natural movement of the stone both in colour and veining and this blending process takes much longer.
Decorative tiles or mosaic tiles can be intricate with cutting and placement to give a perfect finish.
Groove Tiles & Stone experienced sales team can offer information on the additional laying costs that might be applicable to your selection of bathroom tiles.
Would you like help with your bathroom tile selection?
At Groove Tiles & Stone we understand that picking tiles for your project can be a big decision.
If you have just started looking for your tiles, we recommend talking to one of our on-site designers. Because we want to help you find a look you love we even offer free design consultations.
If you need a second opinion, come in to one of our showrooms to talk with our expert team.
Don't forget to share this via , , , , , , , , , , , and .